We support our milk suppliers not only in producing top-quality milk, but also by providing them with advice and help so that they can operate their farms even more sustainably. Our approach is based on dialogue and cooperation in order to achieve step-by-step improvements together.
Dairy Sustainability Tool.
We are taking part in the pilot phase of the Dairy Sustainability Tool to ascertain how our cooperative is performing in terms of sustainable milk production. The tool is based on a questionnaire with criteria covering economics, ecology, social issues and animal welfare. The primary aim is to compile the first detailed overview of how individual dairy producers are faring in terms of sustainability. Because the results reveal the strengths and weaknesses, they also show us the scope for improvement. That makes them a good starting point to formulate goals in a constant process of improvement.
Sustainability Tool
The Dairy Sustainability Tool was developed by the Thünen Institute of Farms Economics, QM-Milch e.V. (Association of the national milk quality management system) and its supporting organizations (the German Farmers' Association, the German Raiffeisen Federation and the Association of the German Dairy Industry), along with project office Land und Markt in conjunction with Landeskontrollverband North Rhine-Westphalia, a milk-testing authority. It has been undergoing implementation nationwide since early 2017 as part of a pilot phase and is scheduled to run for three years until 2020. The tool is based on a questionnaire that collects data on 84 scientifically based criteria from the fields of economics, ecology, social affairs and animal welfare.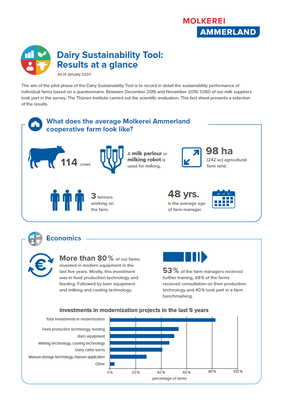 Results Dairy Sustainability Tool (PDF, 90 KB)
Spotting developments early.
We keep in close contact with associations and interest groups to help us identify the latest developments at an early stage. For example, we are a member of the globally active Sustainable Agriculture Initiative Platform and participate in its Dairy Working Group. This cooperation helps us to keep abreast of future requirements for a sustainable dairy industry at all times – and of how they can be met.