The success story of Molkerei Ammerland wouldn't be possible without our employees. Everyone here shares responsibility for achieving our company targets and pushing ahead with the continued sustainable development of our cooperative. To maintain their passionate commitment to our cooperative's interests and concerns, our company's employees need to feel comfortable on the job, just like they need opportunities for personal and professional grown. With the goal of remaining an attractive employer, we keep the topics that are relevant to our employees front and center in everything we do.
The Ammerland family.
Our dairy cultivates a family-like atmosphere, with flat hierarchies and close connections. A secure job, individual training and educational advancement opportunities and a management that respects the needs of employees at different stages of their lives help us ensure that people feel at home working with us. A long period of low staff turnover and a high degree of personnel continuity are proof of this. The average length of employment with the company is around 10 years.
Unwritten laws written down.
We do without artificial additives – but not without ethical principles. Shared values and impeccable conduct are particularly important to us as a cooperative company. That apply not only to our day-to-day interactions with our colleagues, but toward all our stakeholders, be they customers, suppliers, authorities or NGOs. We have summarized our standards and values in a code of conduct, which also forms the basis for every corporate decision and all our activities.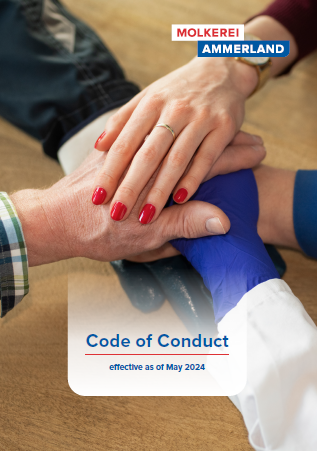 Code of conduct